There are over 6 million du Trieux descendants in America. many of them could certainly be deemed "notables" but are not yet known to our family tree. If you know of one, please let us know.
National Leaders
President Theodore T. Roosevelt
Theodore Roosevelt is considered the 4th greatest President by most historians. Not quite 43, he became the youngest President in the Nation's history. Roosevelt brought new excitement and power to the Presidency, as he vigorously led Congress and the American public toward progressive reforms and a strong foreign policy. He took the view that the President as a "steward of the people" should take whatever action necessary for the public good unless expressly forbidden by law or the Constitution." I did not usurp power," he wrote, "but I did greatly broaden the use of executive power."

During the Spanish-American War Roosevelt was a lieutenant colonel of the Rough Rider Regiment, which he led on a charge at the battle of San Juan. He was one of the most conspicuous heroes of the war. He won the Nobel Peace Prize for mediating the Russo-Japanese War, reached a Gentleman's Agreement on immigration with Japan, and sent the Great White Fleet on a goodwill tour of the world.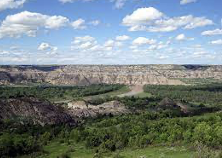 Some of Theodore Roosevelt's most effective achievements were in conservation. He is considered the father of our National Park System. He added enormously to the national forests in the West, reserved lands for public use, and fostered great irrigation projects. Roosevelt read a book a day, wrote 40 books, and 155,000 letters. He had a near photographic memory. He was a strong proponent of clean air, built the Panama Canal, created five national parks, 18 new monuments, and preserved 230 million acres of wilderness.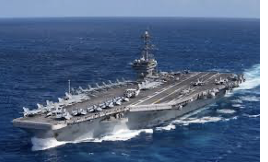 Yet, he was a champion of the worker, considered progressive and famously said, "the country is not going to be okay for the most privileged of us if it is not going to be okay for the least privileged of us." (Sources: Smithsonian & Wikipedia)
Chief Justice Oliver Wendell Holmes, Jr.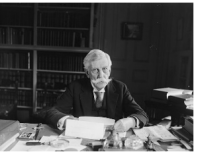 Oliver Wendell Holmes, Jr. (1841–1935) retired from the Supreme Court in 1932 after serving for 29 years. Holmes was known as the "Great Dissenter."
He was viewed as a civil libertarian who protected the First Amendment from encroachments, particularly during World War I and the period of hostility to dissent that followed the war.
Holmes created the clear and present danger test. Holmes wrote some of the most significant free speech decisions ever handed down by the Court. In the process he attempted to identify the fine line between protected and unprotected speech with his "clear and present danger test," in which he used the now classic example of an individual falsely shouting "Fire!" in a theater as an example of speech that was "substantively evil."
Holmes was born in Boston, Massachusetts, into a prominent, staunchly abolitionist family. After graduating from Harvard in 1861, he served with the Massachusetts 20th Volunteers during the Civil War. He graduated from Harvard Law School in 1866. He returned to Harvard to teach legal history, constitutional law, and jurisprudence after a brief period of private practice in partnership with his brother.
A compilation of Holmes's Harvard lectures was published in 1881 as The Common Law. The Common Law, considered by many scholars to be the best book written on the American legal system, expounded Holmes's legal philosophy, which he based on the notion that law is derived from human experience rather than logic.
He was nominated by President Theodore Roosevelt, but the two were at odds due to Holmes going against many of Roosevelt's intents. (Source Wiley Online Library; picture Library of Congress)
Anna Eleanor Roosevelt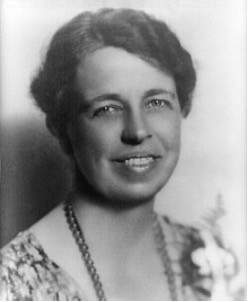 Anna Eleanor Roosevelt was the longest serving First Lady throughout her husband President Franklin D. Roosevelt's four terms in office (1933-1945). She was an American politician, diplomat, and activist who later served as a United Nations spokesperson.
Eleanor Roosevelt grew into a woman with great sensitivity to the underprivileged of all creeds, races, and nations. Her constant work to improve their lot made her one of the most loved–and for some years one of the most revered–women of her generation.
She was born in New York City on October 11, 1884, daughter of the lovely Anna Hall and Elliott Roosevelt, younger brother of Theodore. When her mother died in 1892, the children went to live with Grandmother Hall; her adored father died only two years later. Attending a distinguished school in England gave her, at 15 her first chance to develop self-confidence among other girls.
Eleanor married her distant cousin, Franklin D. Roosevelt in 1905 with her uncle the President giving the bride away. When he was stricken with poliomyelitis in 1921, she tended him devotedly. From his successful campaign for governor in 1928 to the day of his death, she dedicated her life to his purposes. She became eyes and ears for him, a trusted and tireless reporter.
When Mrs. Roosevelt came to the White House in 1933, she understood social conditions better than any of her predecessors and she transformed the role of First Lady accordingly. She never shirked official entertaining; she greeted thousands with charming friendliness. She also broke precedent to hold press conferences, travel to all parts of the country, give lectures and radio broadcasts, and express her opinions candidly in a daily syndicated newspaper column, "My Day." (Source: Wikipedia)
Combs Craig Truax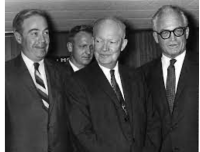 David Truax "found" his father after digging through a pile of discarded items in his brother's basement. He remembers his father as a "truly great man." The found items tell the story of Combs Craig Truax in a book called Blackbird Row. The book gives a fascinating look at the United States during the middle of the last century.
Combs Craig Truax was one of the founding members of the Association of Philippe du Trieux Descendants 1981. He was serving as a Representative of the State of Pennsylvania. He sent a letter to the Association offering suggestions for its organization. He had spent the last 25 years helping to organize both political and civic organizations. He had suggestions for dues, increasing membership, and reaching out to historical and genealogical groups that still hold merit today.
Truax enlisted in the army at the waning days of WWII and served in the Navy during the Korean War. After the war he was a weekly newspaper editor, but his enthusiasm for the moderate wing of the Republican Party led him to a career in politics.
After volunteering for Governor Scranton of Pennsylvania, his talents were recognized and he was promoted to Pennsylvania's GOP chair. He eventually became his party's Secretary of the Commonwealth. Thru the years, he met and earned respect of many famous politicians, including President Eisenhower, President Richard Nixon, and Senator Barry Goldwater.