ENTERTAINERS
Buddy Truax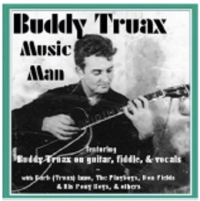 It would be hard to find many as skilled and versatile as Waterbury's (Vermont) Buddy Truax. Whether crooning a country ballad, laying down smooth jazz guitar lines and sophisticated chords, sawing out an old-time fiddle tune, or personalizing a sultry standard on tenor saxophone, Buddy was a major presence on the airwaves, at dances, and in Vermont stage shows for three decades. He charmed audiences and inspired fellow musicians with his affable personality and musical virtuosity.
Music was in Buddy's genes. His grandfather and father (Otis Truax) played fiddle and his mother played the organ. In World War II, Buddy was enlisted to play in the Special Services Unit, where he received his education in jazz. He found himself playing with national and international musicians such as Glenn Miller and Stan Kenton. Later, he was called to play with Louis Armstrong, drummer Cozy Cole, pianist Earl "Fatha" Hines, and trombonist Jack Teagarten.
Back in Vermont, Buddy formed his own group, The Playboys, and pursued playing on the radio and at barn dances. But Rock 'n Roll soon got in the way. By 1962 The Playboys were disbanded. He then helped run Bud's Restaurant he owned with his wife and only occasionally returned to the bandstand. (Source: essay by Mark Greenberg)
Ernest Truex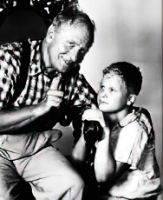 Ernest Truex was a well-known character actor during the 1920s – 1950s. His debut was playing the child role of Benny Goodman in the Benny Goodman Story. He was known for his comedic nasal tone. He played everything from Shakespeare to Mr. Peepers shows. Truex was the boss on The Ann Southern Show, a regular on Mr. Peepers, the grandfather in Jamie, the Pop in December Bride and Pete and Gladys. He also starred with his son, actor Barry Truex, in the Twilight Zone.
Described as the ultimate "Milquetoast" at only 5'3" he was popular for the many comedies and the characters he portrayed. Truex had roles in more than 60 productions. Shown above is Ernest Truex and Brandon deWilde in TV series Jamie (1953). (source: www.imdb.com)
Sarah Truax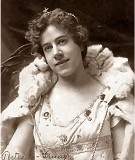 Sarah Truax (February 12, 1873 – May 2, 1958) was an American actor whose career began in the mid-1890s and lasted well into the twentieth century. Though she appeared in only a handful of Broadway and Hollywood productions over her career, Truax did achieve success throughout America as a star of stock and touring companies. She had starring roles in The Two Orphans, The Prince of India ,and The Garden of Allah. During her later years Truax remained active as an actor and stage director working with community theatres across her adopted state of Washington.
Records differ on whether the daughter of David Truax and Emma Cornwall was born on the Cincinnati or Covington side of the Ohio River but do agree that she was later raised in Chicago. Her father, who was born in Canada to American parents, supported his family as traveling salesman. Her mother was native of Ohio In her youth Truax entertained at church and social gatherings and attended The Chicago Music Conservatory Truax's original intent was for a career in music, but soon found acting a more accessible career path.
She played in movies with Tyrone Powers, Douglas Fairbanks, Jr., and Dorothy Gish. Some of her roles were in Merchant of Venice and Lady of Lyons. She was also an accomplished opera singer.
Another facet of her life in the Professional Woman's League, made up of nearly 500 women who stood by each other for the rights of women. Among those in the organization were Lillian Russel, Mary Snow, and Edna Hopper. (Sources Seen on the Stage Magazine and Wikipedia)

Edie Sedgwick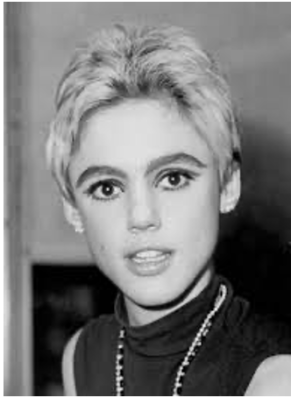 Edith Minturn Sedgwick Post (April 20, 1943 – November 16, 1971) was an American actress and fashion model, known for being one of Andy Warhol's superstars. Sedgwick became known as "The It Girl of the Year" in 1965 after starring in several of Warhol's short films in the 1960s. She was dubbed an "It Girl", while Vogue magazine also named her a "Youthquaker".
Sedgwick broke with Warhol in 1966 and attempted to forge an independent acting career. However, her mental health deteriorated from drug abuse, and she struggled to complete the semi-autobiographical film Ciao! Manhattan. Sedgwick was also linked with Bob Dylan. She gave up drugs and alcohol after meeting her future husband Michael Post, and completed filming Ciao! Manhattan in early 1971. Post and Sedgwick married in July 1971; she died three months later of an overdose at age 28.
Sedgwick's mother, Alice, was the daughter of Henry Wheeler de Forest, the president and chairman of the board of the Southern Pacific Railroad. She was named after her father's aunt, Edith Minturn Stokes, who was famously painted with her husband Isaac Newton Phelps Stokes, by John Singer Sargent. She was of English and French Huguenot ancestry.
Sedgwick's childhood was a troubled one with abusive parents and troubled by two brothers' suicide. She also had an eating disorder and was very thin as an adult. She died at the height of her career.
She was in many films – Poor Little Rich Girl and The Andy Warhol Story were two of her biggest.
(source Wikipedia)