Innovators
Robert Truax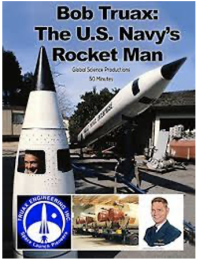 Robert Truax was a distinguished "rocket man." Born in 1917 he was inspired by Robert Goddard articles in Popular Mechanics to build his own rockets in Almeda, CA. He graduated from the Naval Academy with a BS in mechanical engineering and went on to receive an MS in nuclear engineering.
Truax headed the Navy Department Project where hyperbolic propellant was discovered – fuel that burst into flame spontaneously when brought in contact with nitric acid. This discovery led to the first free-flight rocket to use the fuel. He founded Truax Engineering, which led to many engineering feats, including the Skycycle for Evel Knievel's 1974 attempt to jump across the Snake River.
(Sources: Wikipedia and Amazon)
Charles Truax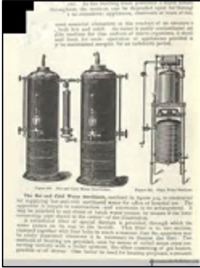 Charles Truax, according to the publication Medical & Scientific Instruments, was the most authoritative source on surgical instruments of apparatus of its day. Truax's encyclopedic work describes and depicts virtually the entire range of instrumentation employed in the surgical and medical practices at the end of the 19th Century. The Common Sense Electric Belt supposedly cured everything, including liver and kidney complaints, paralyses, lumbago, malaria and "female complaints."
For most of the nineteenth century, American physicians designed their own surgical instruments or imported them from Europe. Chicago's Charles Truax & Co. revolutionized surgical instrument making in the 1880s by establishing simplified standard designs and applying the techniques of mass production to what had formerly been an individual craft. Charles Truax (1852-1918), who had opened a physician's supply store in Iowa in 1878, relocated to Chicago in 1884 to be near the city's growing numbers of physicians and medical colleges. Within five years, his surgical instrument sales had increased twentyfold. Truax responded to the new importance of antisepsis in medicine by creating the first line of "aseptic" surgical instruments that could be easily sterilized. The picture below is an ad from the Chas. Truax & Co., which was located in Chicago, Illinois. (source The Mechanics of Surgery.)
Sewall Truax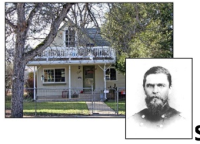 Sewell Truax had a connection to the Lewis & Clark Expedition. After the Civil War, a road-building expedition led by engineer Wellington Bird and surveyor Sewell Truax made alterations to a section of the trail known as the Lolo Trail that was famously traversed by Lewis and Clark. As funding was inadequate, the Bird-Truax party was only able to mark a route and rebuild some of the Indian trails. The Bird-Truax party eventually altered parts of the trail, making them less steep than when Lewis and Clark passed through them. They named locations-- Snowy Summit, Sherman Pak, Indian Post Office, Noseeum Meadows. The names remains today.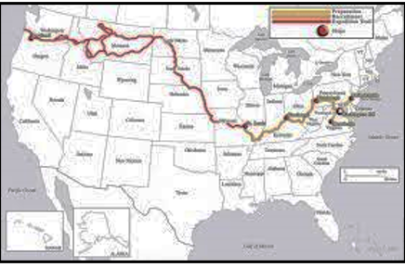 After the War, Truax remained in Lewiston as a merchant in the gold fields but by 1870 had returned to engineering. He supervised construction for the Walla Walla and Columbia River railroads, laid out the town of Morengo and invented and built grain shutes to load steam wheelers along the Snake River. He was also elected to the Washington Territory Legislature and served as President of the Assembly in the 1880s. (Sources: The Footsteps of Lewis and Clark by Wallace G. Lewis, Pinterest)
Van Day Truax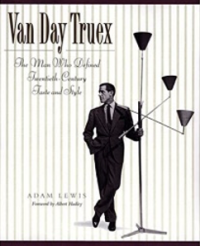 Van Day Truex is widely regarded as the "father of Twentieth century American design." Residing in Paris for most of his life, Truex's contemporaries were Dali, Picasso, Duchamp, Ezra Pound, Henry Miller, Hemingway and F. Scott Fitzgerald. Under his leadership, Parsons School of Design became the foremost school for interior design and fashion in the United States that influenced generations of students.
His greatest legacy was his long reign as design director at Tiffany & Co. He was also an accomplished fine artist. Most of his artwork is copyrighted as they sold in the thousands of dollars. Biographer Brooke Astor called Truex "one of the most charming men I ever knew." (Source: Amazon)